Info Flash N°20
September 2015
Nos Amis Les Animaux 85480 is a registered association (W852002671/SIRET 538 773 193 00015) for the protection of animals. Often called simply NALA we have members of many nationalities but mainly English and French.
We were set up in September 2010 and since then have placed about 220 animals, mainly cats, with loving, new owners. We have obtained the French equivalent of charitable status so that donations are tax-deductible.
Top stories for this month:
The final, final straw
The "

Green Cow" a monument to human stupidity

Rays of sunshine this summer

Bedwarmers Looking For a Good Home
Come and join Nala; together we are stronger!
The final, final straw
We've been seriously winding down our involvement in helping individual animals for a while now. Partly because we realised that we were treating the symptoms of the problem, not the causes and also because we got fed up with dealing with unreasonable people. We haven't got a solution for the latter, but we can do something about the former.
The problem with strays is simply too many animals and not enough owners. We can't do much about increasing the number of owners, so we have to tackle the problem of too many strays. If everybody obeyed the law and had their cats and/or dogs identified, then that would already be a big improvement as it would be easier to return strays to their owners. However, the authorities don't seem too concerned about ensuring that the rules are respected, so haven't carried out any significant information campaign. And as pets are rarely checked by the authorities to see if they're identified, people can ignore the law with impunity.
The other issue is unwanted kittens and puppies because people don't sterilise their animals. We've probably heard every excuse in the book, but generally, when you get down to it, the main reason for not sterilising a pet is the cost to the owner, from about €45-75 for a male cat and from €90-150 for a female. (It pays to shop around as the price varies from vet to vet.) Unfortunately, the savings to the owner are trivial compared to the cost to the taxpayer: just one unidentified stray cat that goes to the animal pound costs the local council about €230. Given that a female can have two litters of five kittens a year, the cost, over the years, of dealing with one owner who abandons their unwanted kittens is frightening.
So we were trying to tackle the source by offering subsidies for the sterilisation of cats of up to 20% with a maximum of €20 for a female and €10 for a male. In addition, with the support of over 400 other French associations for the protection of animals, we have asked the relevant ministers to introduce a law making it compulsory for cats to be sterilised before they change hands. We have also suggested that they consider either putting a cap on the amount that vets can charge for sterilisation and/or setting to zero the rate of VAT on animal medicines and medical care.
We know that this change of focus has not gone down well with some supporters of NALA who are now helping other associations for the protection of animals. We would like to thank them, once again, for the efforts that they have made on behalf of the animals and are pleased that they are carrying on.
Now to the final, final straw... Tuesday 11th of August 2015, a day that will live in infamy, (OK, perhaps I'm exaggerating a bit) we found a message from a vet in Chantonnay on our answering machine: a box addressed to NALA has been left outside their door. Inside the box: 8 four week old kittens. Attached to the box: a printed note saying that they had been fed as their mum had died and the person abandoning them couldn't look after them anymore. Now that's just great!!! What are we supposed to do? According to the law they have to go, via the town hall, to the pound for the statutory period of eight working days before they can be given to an association, which has a shelter, for adoption or be put down if a vet considers it necessary.
However, Chantonnay has a contract with a private animal pound and we know from our project to get the statistics of all the pounds in the Vendee that the survival rate of kittens in this particular pound is practically zero. Therefore, if we don't do anything, the kittens will die...
Of course, we step in: two days of phone calls and emails to the vet, the police, the town hall, the association Galia and the animal pound and we finally have an agreement that Galia would take the kittens and give them to us.
Ten days later and unfortunately 5 kittens didn't survive the pound. The remaining three, though remarkably more skinny than when they entered the pound are now safe in our care. Take a look at the two photos below. Can you tell which is the "before" and "after" their stay in the animal pound?
Please keep your eyes on our web site as we will be looking for some loving homes for them once they've recovered a bit more.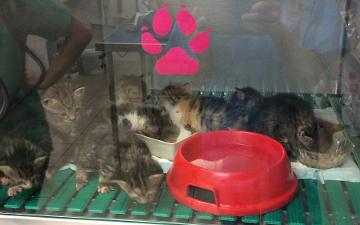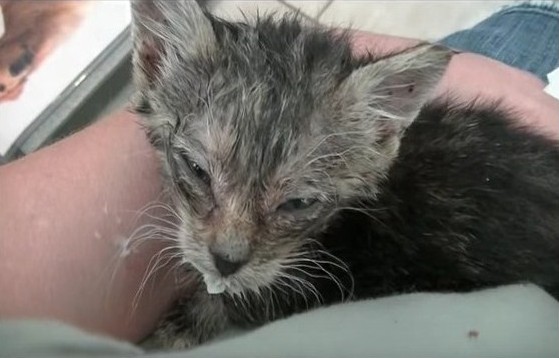 The "Green Cow" a monument to human stupidity
In December this year Paris will host the Conference on Climate Change. At the moment agriculture is one of the biggest sectors releasing greenhouse gases into the atmosphere, yet it's emissions are not regulated under current climate change legislation. Clearly, that is going to have to change.
In addition, in France, industrial farming has been responsible for the loss of over 5 million farming jobs over the last 50 years, polluted land and waterways, invasions of seeweed on tourist beaches and cost billions in subsidies.
So, it is with a jaundiced eye that we view the latest attempt at greenwashing by the agricultural industry: they painted a cow green and displayed her at Paris. Then for the next 20 days they paraded her around a number of towns wearing a cover with a slogan, instead of being painted. It's a little bit ironic that this happened during an unusual heatwave that has affected large parts of Europe.
Rather than showing the "Green" virtues of industrial agriculture, we think this gimmick more accurately reflects the lack of concern that the industry has for the well being of animals.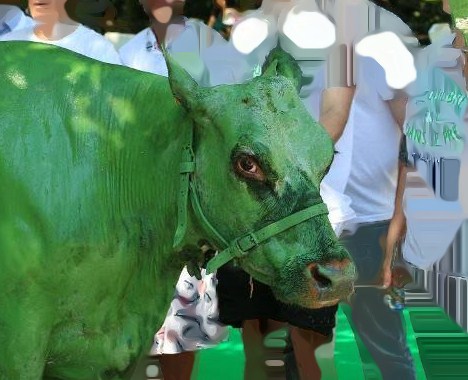 In fact, it amazes us how anyone with the slightest respect for a social animal like a cow could separate her from her herd and then subject her to the stress of meeting crowds of strangers.
A petition, launched by us and another association for the protection of animals (OABA) was signed by more than 27,000 people and supports our impression that rather than being a symbol of respect for the environment, the Green Cow is actually a monument to human stupidity.
Rays of sunshine this summer
The courtyard of the "Clemenceau" bar in Mouilleron-en Pareds overflowed with music on the evening of Saturday 11th of July. The Portraits, a folk duo: Jeremy and Lorraine, accompanied by Vincent on violin, played a free concert on behalf of NALA to thank all the people who have supported us over these last 5 years. You've probably never heard of them because they don't have a contract with a big label. However, they have had quite a bit of air play in the UK and have played Glastonbury Festival four times in a row. Their performance for NALA was their first show since Glastonbury this year, testified to by the bits of dried mud that their equipment cases left behind.
Their songs are quite thoughtful, "Fairylights" was inspired by a night flight during which Jeremy wondered whether the lights below, all caused by Man, were beacons of civilisation or the fires of war. "Payback" is a response to hearing that Sir Bob Geldof has suffered personnel tradegies, including the loss of a daughter, in spite of doing so much to help other people. I think that the audience of 30 odd people enjoyed the show, I did. If you want to know what you've missed, you can see them at the La Rochelle Jazz Festival on the 15th of August
Another ray of sunshine has been the campaign of trap, sterilise and release that we carried out in cooperation with the mayor of Ste. Hermine. Six cats were captured, of which 5 were pregnant. They have all been sterilised and released except for one cat, Justine, who is very sociable and already adopted by a good family.
Unfortunately, we didn't manage to catch one pregnant cat who recently had 3 kittens, so the problem has not been completely solved. The mayor also had some signs erected to remind people that abandoning pets is an offence punishable by up to 2 years in prison and a fine of €30,000. Just imagine: if the authorities took the issue seriously and caught and fined the owners of the estimated 100,000 pets abandoned each year, that would raise a tidy sum to put back into animal protection... and perhaps stop so many mayors pleading poverty when it comes to their duty to help animals.
And talking of helping animals: we had to provide emergency vet care for Bianca and she is now up for adoption. The people who rescued her told us that she was very sweet and sociable, so we were surprised when she hissed at us and tried to hide for the first couple of days that she was with us. It was probably because she wasn't feeling well and had had a stressful time, as she is now back to her friendly self. Bianca prefers a family without other dogs and cats. More details
here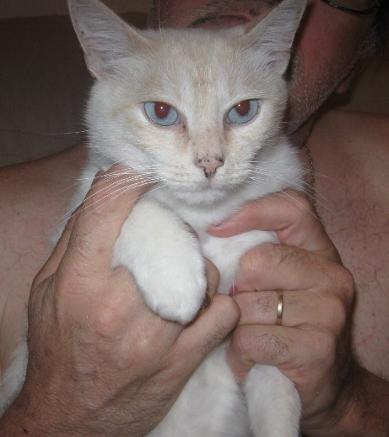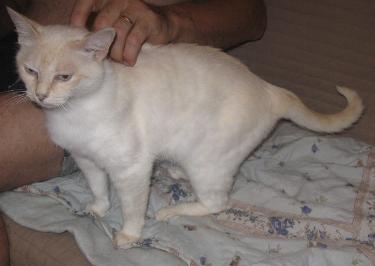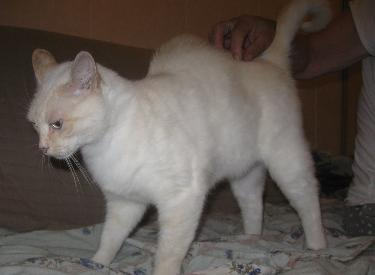 Other Bedwarmers Looking For a Good Home
You'll find more details on the site here
Come and join Nala; together we are stronger!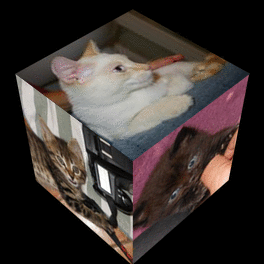 For those of you who haven't yet renewed their membership, please fill in the form
here
© NALA 85480, September 2015, Bournezeau Mail nala85480@hotmail.com Nala Bournezeau sur facebook:
http://www.facebook.com/profile.php?id=100002135097263
Le site:
www.nosamislesanimaux.com